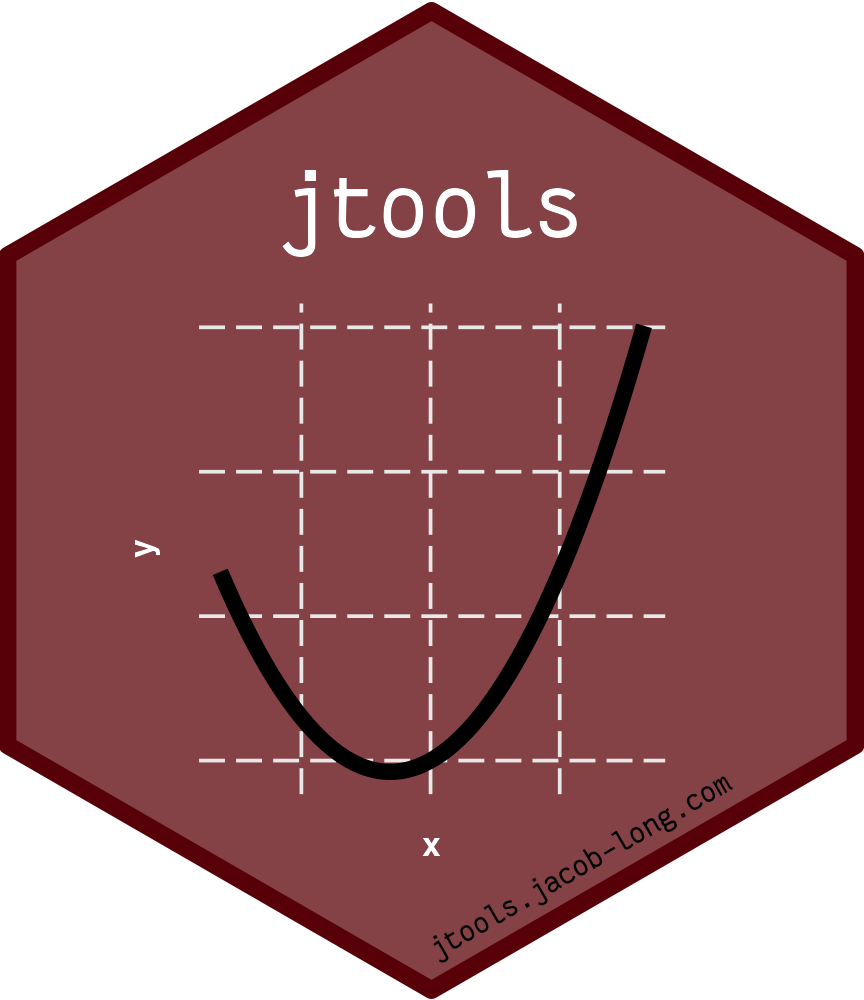 jtools
This package consists of a series of functions created by the author (Jacob) to automate otherwise tedious research tasks. At this juncture, the unifying theme is the more efficient presentation of regression analyses. There are a number of functions for other programming and statistical purposes as well. Support for the survey package's svyglm objects as well as weighted regressions is a common theme throughout.
Notice: As of jtools version 2.0.0, all functions dealing with interactions (e.g., interact_plot(), sim_slopes(), johnson_neyman()) have been moved to a new package, aptly named interactions.
Installation
For the most stable version, simply install from CRAN.
If you want the latest features and bug fixes then you can download from Github. To do that you will need to have devtools installed if you don't already:
Then install the package from Github.



devtools

::

install_github

(

"jacob-long/jtools"

)
To see what features are on the roadmap, check the issues section of the repository, especially the "enhancement" tag. Closed issues may be of interest, too, since they may be fixed in the Github version but not yet submitted to CRAN.
Contributing
I'm happy to receive bug reports, suggestions, questions, and (most of all) contributions to fix problems and add features. I prefer you use the Github issues system over trying to reach out to me in other ways. Pull requests for contributions are encouraged. If you are considering writing up a bug fix or new feature, please check out the contributing guidelines.
Please note that this project is released with a Contributor Code of Conduct. By participating in this project you agree to abide by its terms.
License
This package is licensed under the GPLv3 license or any later version.